This article or section is a stub. It needs to be expanded and improved. Help out The Skybrary by contributing to this article or section by bringing it up to a more stable cruising altitude.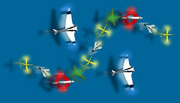 Glimmerclay is a material used by the Court of Violets for various artistic purposes. The most notable use of glimmerclay is in a special compound that the Court uses in their plane hulls, causing them to become indistinct.
As glimmerclay is foreign to Skytopia, the only known source of glimmerclay is that which the Court of Violets brought with them from their homelands.
References
[
]