This article or section is a stub. It needs to be expanded and improved. Help out The Skybrary by contributing to this article or section by bringing it up to a more stable cruising altitude.
Born
unknown, unknown, The Barrens

Died
n/a, n/a
Species
Faction
Earthen Order
Matriarch Clara Zemundi is the representative for a group who calls themselves the Earthen Order, which recently started resuming work of building the monument on Lhasa. The matriarch called out to the followers of the order to stand together and build the Second Kingdom of Magnus.
The matriarch was accompanied by Acolyte Meridian during the meetings with the faction representatives.
The Matriarch's Cargo Transport
Matriarch Clara appears to transport cargo on a uniquely-designed platform pulled along by more than 20 tethered aircraft. It is unclear whether the platform floats on or just above the water, but its shadow seems to indicate a very low altitude as compared to the 'horse team' of planes that pull it along. About Leviathan-sized in length and somewhat wider, it appears to have two zeppelin-like 'pontoons' on either side of its exposed cargo space, with three spherical balloons assisting in keeping the massive structure afloat. The vessel's cargo appears to be stored in at least fifty rectangular cargo crates.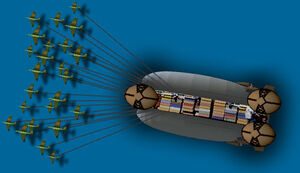 References