Freedom of mind;
freedom of body.
This character is a member of
Prince Harris
Born

Tortuga
Died
N/A

Species
Boar
Affiliation
Azure League
Wing
System of the World
Profile
Profile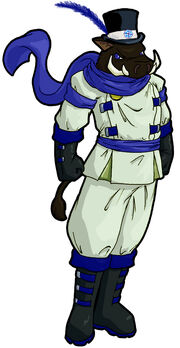 Harris5 is the skybrarian name for Prince Harris.
Prince Harris is a Boar with membership in the Blue Faction. He is active in the Azure League and often presents ideas to the group for discussion or vote. He also sits in on meetings of the Azure Conclave and offers assistance where his skills are useful.
Prince Harris hails from Tortuga. He is often away from his original home due to Red Faction subjugation of Tortuga. Even so, the sense of freedom and uniqueness he gained growing up there continues to guide his decisions. He is a lifelong fan of the Cutthroats, the Tortugan Grimby team, and seeks to purchase a majority share in the team someday. Occasionally, he is elected governor, a position which he takes seriously.
Although he does not make a career of it, he often snaps photos of important skytopian events. Occasionally his pictures feature in galleries or win awards. One of his most recent showings was at the Tortugan Gallery of Modern Art. He has also done freelance work designing advertisements for Post Aviation.
Prince Harris is often present in the affairs of Tortuga, arranging grants for Tortuga University (Go Fighting Sailfish!) and promoting local industry and business. He served a term as governor of the skyland prior to the Red takeover of his home skyland. He is also a prominent persona in the Azure League, and seeks a moderate path to resolving political and social issues which face the Blue Faction.
Projects that Prince Harris has contributed to include: The Portrait Studio, Skycust, The Azure Horizon, and Skyrates Social Charting,